Shared to-do list
A good list is the best tool to organize  If you want to organize among several people, it's much better to have a shared list always at hand. 
In the free version of dommuss, the shopping list features a list of things to do. That is, a list of tasks or pending issues to share with all the members of the family or group.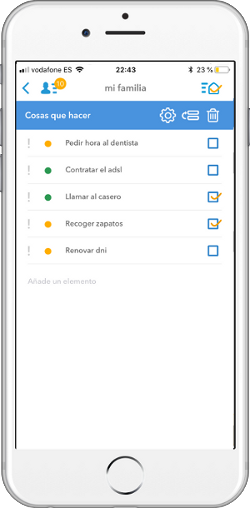 You can tick or complete the completed elements so that the rest know that they are no longer needed.
You can mark the items as urgent.
Every item you write, modify or mark as completed will immediately notify the rest of the dommuss members.
Thanks to the powerful permission system, you can decide which dommuss members can access or edit the shopping list and which cannot.
Additionally, if you are a Dommuss PLUS user:
You have the 'quick erase' feature that allows you to delete all the selected events or items on a list that you don't need.
You can assign responsibility for each item in the list.
You can sort the elements as best suits you: the most important above, depending on how the supermarket is distributed, etc.
You can create all the shopping lists you want. For example, if you want to have a list for the monthly purchase and another for the weekly purchase of fresh products. You can also create a specific list for the back to school purchase.