Shared calendar
Nothing's more useful than having a family or shared calendar. Write down the wedding you have in six months, your new colleague's upcoming birthday, the kids' extracurricular activities, the key meeting you have in two weeks, the doctor's appointment, your swimming lessons or the Sunday football game so you won' forget.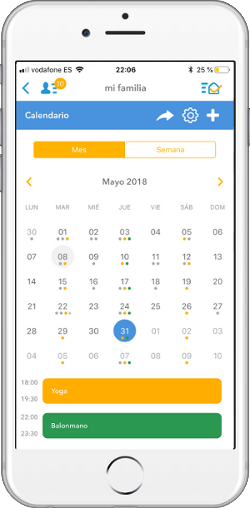 Dommuss calendar has a convenient color code system that indicates who is affected by each event.
You have a monthly or weekly view, so you can choose the one that is most useful for you.
You can record both events by hours or whole-day events.
You also have the possibility of including recurring events: daily (a 7-day course you have signed up for), as well as weekly (the status call with your client), monthly (rent payment) or yearly (your brother's birthday).
You can set an alarm so dommuss notifies you of the event one hour in advance.
When you write down an address, if you click it will automatically take you to your map application so you can see where it is.
You can add notes to the events.
Every event you write or modify immediately notify the rest of the dommuss members.
Thanks to the powerful permissions system, you can decide which members of dommuss can access or edit the calendar and who can not.
Additionally, if you are a dommuss PLUS user:
You can set additional alarm times. You decide if you prefer to be notified with 15 minutes, half an hour, one or two hours.
You can synchronize the calendar with other calendars, for example, with your mobile device or the system you use in the office. So you can see your personal, work and family calendar all in the same place.
You can have more than one calendar. For example, if you want to have a calendar with the tasks to do at home or if any of the members wants to have their personal calendar that only they can see.