Shared shopping list
Tired of having to check the fridge and the pantry to know what to buy? Of needing to go to the store without knowing or having a list of what's needed? Of returning from the supermarket and realizing that you've forgotten the eggs for the cake? Of receiving a WhatsApp in the middle of a meeting asking what to buy?
None of this will happen to you any more with the shared shopping list always at your disposal and on the mobile of each member of the family or group.
Milk, printer paper, cookies ... You can all write down things when they run out. So the one who goes to the supermarket always knows what to buy.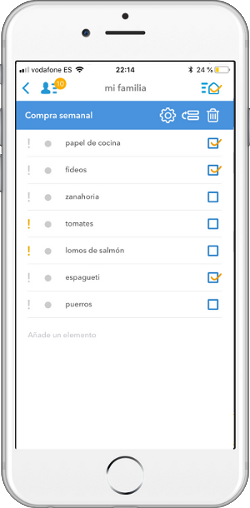 You can tick or complete the purchased items so that the rest know they are no longer needed.
You can mark the items as urgent.
You will love using the brands or names that you all like. It's easy and fun!
Every item you write, modify or mark as completed will immediately notify the rest of the dommuss members.
Thanks to the powerful permission system, you can decide which dommuss members can access or edit the shopping list and which cannot. For example, if you have someone who helps you at home and sometimes takes care of the grocery shopping, you can give him or her access to this module.
Additionally, if you are a dommuss PLUS user:
You have the 'quick erase' feature that allows you to delete all the selected events or items on a list that you don't need.
You can assign responsibility for each item in the list.
You can sort the elements as best suits you: the most important above, depending on how the supermarket is distributed, etc.
You can create all the shopping lists you want. For example, if you want to have a list for the monthly purchase and another for the weekly purchase of fresh products. You can also create a specific list for the back to school purchase.